Paso Robles Viticultural Areas
Traveling to Paso Robles Wine Country: A New Frontier – Wine Oh TV
The Paso Robles AVA is still acknowledged for its heritage grape, Zinfandel, but has gained recognition from a wider range of grape varietals as well. In the 1950s and 1960s, growers began to plant Bordeaux varieties, particularly Cabernet Sauvignon, in the area. Starting in the 1980s, there have been increased plantings of many Rhône varieties, including the first Syrah planted in California, as well as Viognier and Roussanne to name a few. The emerging popularity of the region's wines led it to become the first site of the bi-annual "Hospice du Rhône" conference on Rhône style wine. Today, Paso Robles Wine Country is receiving attention for its unique Paso blends. These wines are unique to the area, and with varietal make-ups that do not follow traditional rules and expectations of winemaking, as characteristic in other regions of the wine world.
The Paso Robles Zinfandel Festival, now known as Vintage Paso: Zinfandel Weekend, is a festival focused on the Paso Robles area's heritage grape, Zinfandel. This event is held by the Paso Robles Wine Country Alliance, a non-profit cooperative marketing alliance.
The Paso Robles Wine Festival is a festival focused on the wide variety of wines the area produces, held in Paso Robles' downtown city park. Attendees have the opportunity to talk with the Paso Robles vintners and taste their wines.
Wineries & Tasting Rooms
Paso Robles sunny climate is perfect for the production of award-winning wines. Taste for yourself at more than 250 wine tasting rooms, ranging from rustic to modern. Paso Robles Wine Country is home to more than 40 wine grape varietiesfrom Spanish to Italian, Bordeaux to Rhone, including the areas heritage variety, Zinfandel. Vibrantly ripened fruit with dynamic flavor profiles translate beautifully by the flight, glass or bottle. Whether you take a cave tour or book an excursion into the vineyards, Paso Robles Wine Country will pair perfectly with your vacation itinerary. Here, friendly hospitality always reigns supreme. Stay for a laid-back barbecue. Enjoy a multi-course winemaker dinner. Kick back and relax while listening to live music at local tasting rooms all year long. Plan a visit around one of the major festivals happening throughout the year including the Paso Robles Wine Festival, Harvest Wine Weekend and Vintage Paso Zinfandel Weekend. Wine styles are truly diverse in this exciting region, so plan to hit a few different wine trails over the course of a day, weekend or longer trip.
While You're Here
Sparkling Paso Wine Tasting
On Friday afternoon, May 20, is the new Sparkling Paso sparkling wine tasting. Five Paso Robles wineries pair up bubbles with tasty bites at Paris Valley Road Estate Winery, including Four Lanterns Winery, Sextant Wines, SummerWood Winery & Inn, Paris Valley Road Estate, and Vino Vargas.
Join us for Sparkling Paso where five Paso Robles wineries pair up their bubbles with tasty bites and good cheer. Come taste these limited-production sparklers and learn about the techniques applied to make these nose-tingling delights. How can it get better than sipping on sparkling wine and nibbling on elegant appetizers carefully crafted by Paris Valley Roads Chef Joe White, all while enjoying a beautiful Paso Robles afternoon? You wont know unless you try.
When: Friday, May 20 | 4:00 5:30 PM
Where: Paris Valley Road Estate Winery
What: Five brands sharing their sparkling with paired hors doeuvres by Chef Joe White
Wineries: Paris Valley Road Estate Winery, Sextant Wines, Still Waters Vineyards, SummerWood Winery, Vino Vargas
You May Like: Low Calorie Red Wine Brands
Last Minute Hotel Options Paso Robles
Sometimes you just don't get around to planning. When you find yourself on the road to Paso Robles with no confirmed hotel room, we recommend booking at one of these two. They are both very nice hotels. The only drawback is the location. The hotels are directly off the highway.
That said, these hotels are centrally located for wine tasting. They have nice rooms. The Bellasera is generally the nicer of the two, but if you are a Hilton member, the Hampton Inn has some nice perks.
While these aren't the best Hotels in Paso Robles, they offer a pleasant place to stay in a pinch.
Sip Your Way Through Central Coast California Wine Country
Nestled among the rolling hills of the California coastline, sun-soaked Paso Robles wine country is a diverse, distinct, and dynamic wine region stretching over 40,000 vineyard acres. From Spanish and Italian, Bordeaux to Rhône, this vine covered landscape is home to more than 40 winegrape varieties produced by the area's 275+ wineries. Whether you prefer a red, white, rosé there's a perfect local wine for your palate. Discover your new favorite by embarking on a guided wine tour, attending annual events like Wine Festival, or stroll through the many downtown tasting rooms.
Sip and stay awhile at our Paso Robles hotel to get a taste for why our beautiful wine country town has been named one of the "Top 52 Places to Visit in 2020" by the New York Times. With so much to taste and see, you better get started! Begin planning with our recommendations below.
You May Like: Best Red Wine For Cooking Lasagna
Paso Starry Night Dinner
Also on Friday afternoon, you wont want to miss the Friday, May 20 Paso Starry Night Dinner at the Paso Robles Event Center. Join us for a unique dining experience where we have matched Pasos best chefs with some of the regions most iconic wine brands. Experience the delicious styling of the KelleCo Project together with some of the regions most iconic wine brands, including Austin Hope, PaperStreet, McPrice Myers, Thibido, Peachy Canyon Winery, and TOP Winery.This specially created winemaker dinner showcases wine country cuisine and the true stars of Paso Robles Wine Country, the chefs, and winemakers! This sure-to-sell-out event seats up to 100, spread outdoors under a warm Paso night sky.
Please note the Starry Night Dinner is SOLD OUT FOR 2022
Day Two: Brunch Boutiques And More Wineries
Ahead of a few more wine tastings, start the day with brunch at Andreas on Pine , a small, quaint cafe downtown thats a favorite of Paso Roblesians. Breakfast burritos, quiche, paninis, fruity baked French toast, and alluring baked goods are whats on every table here.
Nearby, pop into a few of Paso Robles boutiquesthrift store Gatherings Emporium, which partners with local charities and womens clothing and home goods shops Bijou and Firefly. While youre downtown, go by Indigené Cellars , a tasting room by Oakland native Raymond Smith. The top draw here is the Ambiente, a blend of Sangiovese, Malbec, and Merlot, which took gold at 2019s Coast Wine Competition.
indigene cellars
Indigené Cellars. Photo courtesy of Indigené Cellars
brothers cafe 316
Brothers Café 3:16. Photo courtesy of Brothers Café 3:16
If Andreas is closed, head just out of downtown to Brother's Cafe 3:16. This is an old school diner serving heaping plates of pancakes, Californian and Mexican egg dishes, sandwiches, burgers, and salads.
If youre feeling peckish after wine tastings, modern cantina Fish Gaucho opens daily from 3pm. Tuck into scallop or mushroom tacos, lobster enchiladas, and fish aguachile here before your drive back to LA.
fish gaucho
Pulpo Tacos, Fish Gaucho. Photo by Heather Malcolm, courtesy of Fish Gaucho
Hero image: Paso Robles vineyards. Photo by Robert Holmes, courtesy of Paso Robles Wine Country Alliance
Read Also: Low Cal Wine
Discover Paso Robles Wine Country
Paso Robles has a long history as an agricultural community, from ranches dating back to the 1800s, to barley, almonds and now vineyards. The regions unique and diverse climate combined with an equally distinct landscape, both challenge and inspire vineyard growers and winemakers who call this place home.
Riboli Family Of San Antonio Winery
Visit California Wine Country in Paso Robles
Have it your way: Four generations of winemaking excellence cant be wrong, right? Well, the iconic winery that brought us such stellar brands as San Simeon, Riboli Family Napa Valley and Highlands Forty One also knows a thing or two about crafting moan-inducing meals. The San Antonio Winerys Eastside Paso Robles tasting room and bistro is churning out top notch Italian eats, including a killer calamari fritti, seared shrimp citrus salad, chicken piccata pasta and even classic entrees like salmon in a lemon butter sauce . Dine either indoor or out, and be sure to check out their newly renovated Atrium Dining Room and Cafe Bistro. Plus, the winerys gift center offers up everything from wine and accessories to upscale gifts, making it a true one-stop-shop on Highway 46 East. Not sure you can make it out to the winery? With an array of mouthwatering pizzas-plus a weekend brunch and family style catering menus to choose from-you can enjoy at the tasting room or have it all delivered directly to your belly courtesy of Grubhub. Now thats a one-stop solution!
Dining Hours: 10 a.m. to 6 p.m. daily.
Reserve your table: Call 805-226-2600
You May Like: How To Turn Wine Bottles Into Glasses
Paso Robles Wine Country Planning Guide
Welcome to the Paso Robles Wine Country Planning Guide. Paso Robles has eleven official AVAs or wine appellations. Discover these AVAs of Paso Robles through our exciting Wine Country Planning Guide. The wine trails and routes we have drafted will take wine country travelers through stunning backroads. Our guide includes where to stay, dine, and fun things to do in Paso Robles. Happy Travels! Check out what each season brings to the wine country.
Paso Robles Wine Country Is Having Its Moment In The Sun
If youre like us you may be wondering, why is everyone talking about Paso Robles? In recent years, the region has suddenly become one of the most tempting wine destinations in America and for good reason.
Although the appellation first gained AVA status back in 1983, the heyday of Paso is just beginning. Regional pioneers and a new wave of exciting, up-and-coming growers are working together to shake things up and reinvent Pasos past, present, and upcoming winemaking ventures.
Yet even in this dynamic, newfangled wine country, theres a little something for everyone and if you love Cabernet, Rhône varieties, or bold red blends at a seriously competitive price point, then Paso Robles is the place for you. So no matter what youre pouring, read on for what you need to know about Paso Robles.
Always-Evolving Agriculture
Josh Beckett, second-generation winemaker at Peachy Canyon, first moved to Paso Robles from San Diego as a child. When we came to Paso, it was mostly farmers, cowboys, and laborers, with no art, high-end food, or culture he recalls. After settling down, the Becketts purchased their first ranch, which comprised 30 acres of walnuts. At the time, walnut trees were a dime a dozen vineyards, not so much.
A Wine for Every Palate
Underdog Spirit
Unforgettable Experiences
Wines of Collaboration
Whats Next
This article is sponsored by the Paso Robles Wine Country Alliance
Read Also: How To Price A Bottle Of Wine
Is Paso Robles The Next Great California Wine Destination
Wine tasting in downtown Paso Robles, California.
Acacia Productions
COVID-19 and the expanding Ukraine-Russia conflict have pushed Americans away from international travel. Fortunately, millions live within a few hours drive of the relaxing wine destination of Paso Robles, California.
California is blessed with a temperate Mediterranean climate that made growing grapes a $4.48 billion business in 2020. Californias lucrative wine tourist industry is also based upon the grape. As COVID restrictions fall, tourists are returning to wine country oases like Paso Robles, Napa, Sonoma, and Temecula.
The Napa region north of San Francisco is probably best known, especially after the 1976 Judgement of Paris that showed California wines to be the equal of those from France. But while Napa leads California with 21,943 acres planted with the prized Cabernet Sauvignon grape, San Luis Obispo County where Paso Robles is the center of winemaking, is not far behind with 15,075.
Wine experts like Robert Parker and Master Sommelier Evan Goldstein have extolled the wines of Paso Robles. Paso Robles is near and dear to my heart, Goldstein in 2019. Paso Robles has made… impressive advancements in style, technique, and character for Cab and red Bordeaux varieties.
The Allegretto resort in Paso Robles, California, with vineyard in foreground and mountains behind.
Allegretto/Ayres Hotels
Cabanas at the Allegretto pool with the resort's vineyard in the background.
Eberle WinerySensorio
Facts About Paso Robles Wine Country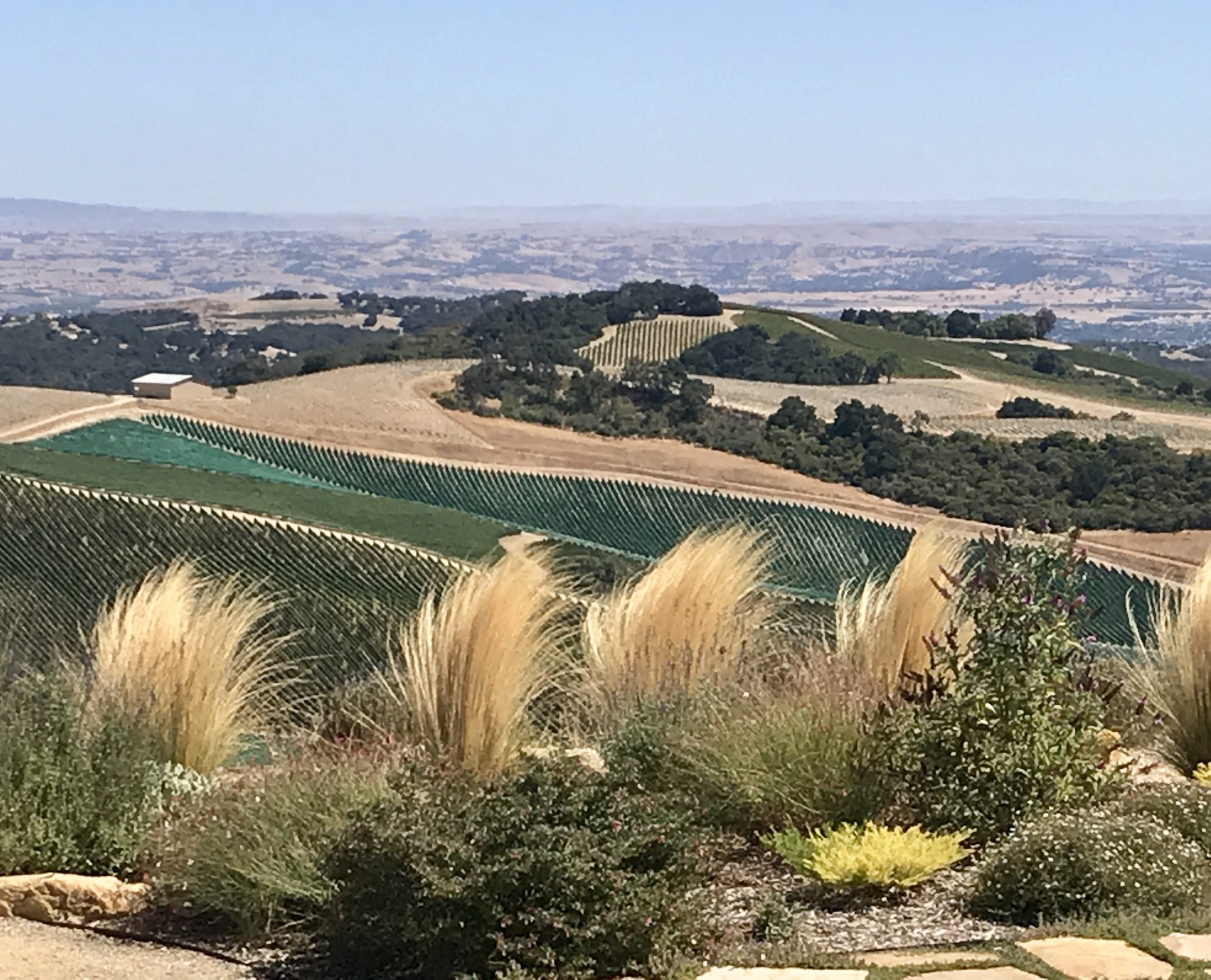 In the heart of Californias Central Coast, there exists a wine-growing region that almost everyone mispronounces. The name of this region is Paso Robles which is Spanish for Pass of the Oaks. It is a Spanish name, so one would be tempted to pronounce it , but if you listen to the locals, you will hear that is the most accurate pronunciation. If you cant remember this, then just say Paso and disregard the extra syllables altogether.
Republic National Distributing Company has teamed up with key Paso Robles suppliers and wineries to bring you, "Just Imagine the PASObilities". A month dedicated to giving back and celebrating wine made in the Paso Robles wine country. Discover wine from Paso Robles and during the month of July a portion of proceeds will be donated to help rebuild the restaurant community after the devastating effects of Covid-19. eRNDC will take you through the prestigious growing region and share three facts about Paso Robles Wine including the region's AVAs, history, and characteristics.
1.Paso Robles Region Includes 11 Districts with 200+ Wineries
Adelaida District AVA

Paso Robles Estrella District AVA

Paso Robles Highlands District AVA

Paso Robles Geneseo District AVA

Paso Robles Willow Creek District AVA

San Juan Creek AVA

Santa Margarita Ranch AVA

Templeton Gap District AVA
Note: York Mountain AVA is a separate AVA technically outside of Paso Robles established at the same time in 1983
2. The History of Paso Robles Wine
Also Check: 750 Ml = Ounces
Economy Full Hookup Back In Rv Site
Our economy sites accommodate RVs from 28-38 feet with plenty of room for slide-outs. Each of these back-in sites are pet-friendly and include full hookups with 30- or 50-amp service, granite gravel. Please be note that the price of these sites reflect a lower price per night due to Hwy 46 being on the other site of properties block wall. Youâll also receive complimentary Wi-Fi and cable TV during your stay with us. Due to a Shipping Shortage of Picnic Tables one will not be provided at this time.
Wine Tasting In Paso Robles Wine Country
Due to COVID-19, some wineries may not be open for tasting or have different hours than listed below. Given the rapidly changing landscape of rules and regulations, please contact wineries directly to ensure you are able to visit, and make reservations as necessary.
There are over 200 wineries in the Paso Robles Wine Country, and the vast majority have tasting rooms on their property that are open to the public.
To help you plan your next outing weve curated a list of all the wineries in Paso Robles Wine Country where you can visit their vineyards, and do some wine tasting while youre there.
If you cant make it to the vineyards for wine tasting, make sure to check out Paso Robles Food & Drink Page to find the wine bars, tasting rooms, and restaurants that feature the wines of Paso Robles Wine Country!
Don't Miss: How Long Is Boxed Wine Good
Premium Full Hookup Pull Through Rv Site
These spacious premium sites are pet-friendly and located on our upper tier with limited bluff sites offering gorgeous views of our entire resort. Each pull-through site includes decomposite granite/dirt pads pads that can accommodate rigs 35 – 40 feet with room for slide-outs and full hookups with 30- or 50-amp service. Weâve also provided complimentary WiFi and cable for your enjoyment. Due to a Shipping Shortage of Picnic Tables one will not be provided at this time.
Starting at $83 per night
Premium Full Hookup Pull In Rv Site
Paso Robles Wine Country
These spacious premium sites are pet-friendly and located on our upper tier with limited bluff sites offering gorgeous views of our entire resort. Each pull-in site includes concrete pads that can accommodate rigs up to 70 feet with room for slide-outs and full hookups with 30- or 50-amp service. Weâve also provided complimentary WiFi and cable for your enjoyment. Due to a Shipping Shortage of Picnic Tables one will not be provided at this time.
Don't Miss: Be My Bridesmaid Wine Labels
Discover And Explore Wines Of Paso Robles
Teddy Roosevelt once famously said, "When I am in California, I am not in the West. I am west of the West."
We are dedicated to wines from Paso Robles on California's unspoiled Central Coast. Many know Paso as "Cowboy Wine Country" for its colorful history, ranching heritage, independent spirit and honest, straightforward wines. We invite you to shop our carefully curated collection of wines from this humble, unspoiled wine-growing region.
Carriage Vineyards And B& b
As we move down our list of the best Paso Robles hotels, we return to cozy B& B options. The Carriage Vineyards and B& B fits that description perfectly. This is a great Paso Robles B& B for anyone who wants to learn how a vineyard operates. The owner runs the inn and the vineyard. He also operates a vineyard tour and even curates a little carriage museum attached to the property. Take some time to pick his brain during your stay.
Guests love the hospitality here. You can expect nice touches like a bottle of wine waiting for you in your room. This is the perfect spot to engage with your fellow travelers while soaking in the beauty of wine country. The Victoria Suite has a large shower and jacuzzi tub. The perfect place to relax after a day on your feet.
Also Check: Bluet Wine Where To Buy