Where To Get Half Wine Barrels
Wine Barrel Carving and Barrel Clocks on Etsy.com
Your options depend on where you live. If youre in or near wine country, you can turn to the wineries themselves. I sometimes get my barrels from a winemaking shop in Berkeley. You can also find them at many nurseries and many big-box home stores. And I once found some genuine barrels outside a mainstream supermarket for an amazing price, so keep your eyes open.
If you can obtain a barrel at or near its source, it will be less expensive. When I get barrels from the winemaking folks, I pay half the price my local nursery charges. For me, the only advantage of getting them at the nursery or local lumber yard is that those places are closer and theyre willing to drill the drain holes for me very expensive holes.
Adding A Liner To Your Barrel
Whether or not to line your barrel with plastic is entirely up to you. Many people feel that a liner significantly extends a barrels life though how much is questionable. My lined barrels are decaying at about the same rate as those that arent lined. One way or another, if your barrel is solid oak, it should last for a good long time.
I like to line my barrels for a different reason, which is that it helps the soil to retain moisture. Even large containers can dry out quickly during a stretch of hot summer days. With a liner, I dont have to water as often.
At first, I had some worries about chemicals leaching from plastic liners into the soil but I poked around on the Internet and talked to a lot of gardener folk and pretty much put my fears to rest.; After all, I occasionally plant in heavy-duty plastic pots or even 5-gallon plastic buckets. But if you have any worries about plastic, skip it.
If you want a liner, you have to decide what kind. You can buy pre-made plastic liners for half-wine barrels. Ready made liners are expensive, but if youre not going to have a huge crop of barrels, they may be worth the investment. Myself, I have invented a goofy way of fashioning a liner out of a heavy-duty, 42-gallon trash bag. All you need is the bag, a pair of scissors, your trusty staple gun, some patience, and maybe a sense of humor.
Happy planting!
What If My Barrel Leaks
Dont be alarmed if you pour water in your barrel and it leaks. Almost every barrel leaks when you first pour liquid in it. The wood has to soak up the water/liquor and it swells against the hoops to seal itself.; It just takes time.; Smaller barrels could take up to a few days and the larger barrels could take a week.; Normally it wont take that long but please allow at least 5 days before contacting us about a leaking barrel. ;Use boiling or hot water and fill your barrel to the top through the bung hole. When doing this, place in an area that allows for seepage coming through the wood Although there may be no leaks immediately, the wood does need to swell internally for a period of time before use, a minimum of 3-5 days is preferred. Curing the wood will minimize the absorption of precious spirit into the body of the barrel.;
Also Check: What Kind Of Wine Can Pregnant Women Drink
Your Networkof International Master Cooperages With Operating Sites In France Italy Portugal Spain And The Usa
OAKBARRELS.SHOP is one of the most experienced and renowned suppliers of wooden barrels and further premium products for maturation of spirits, wines and beers. We are the official representative of leading international cooperages and work in close partnership with the world's most exclusive producers, wineries, distilleries and breweries.For quality reasons, we do not operate our own warehouse. Regardless of wether new or used in refill-ready condition – our barrels are always delivered directly to you from our contracted cooperages and are carefully tested and inspected by our international master coopers beforehand. With this approach, we want to avoid long idle times, as a result of which the barrels lose a lot of quality.
Wine Barrels Background And Benefits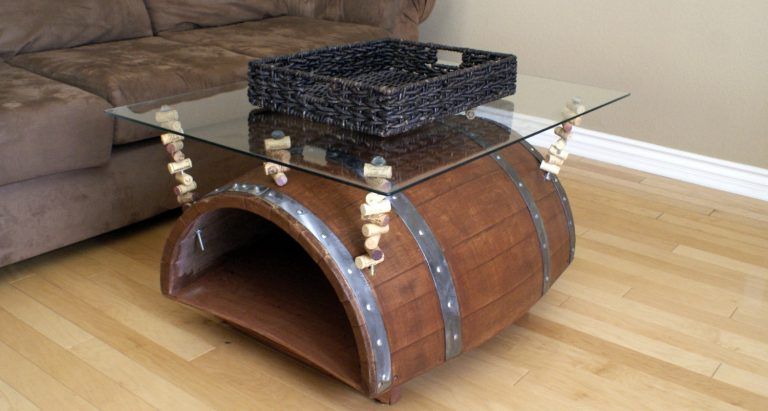 For millennia, winemakers have used oak barrels for storage, aging, and sometimes even fermentation. Today, a significant proportion of red wines and some white wines are still aged in oak barrels. The reasons for choosing these types of barrels are diverse. Here we outline some of the factors that make these barrels a good choice for your small business alongside other options to consider too.
Oak barrels interact with wine during the aging process in two substantial ways: ;
First, the structure of the barrel minimizes the presence of oxygen, allowing for slow, controlled oxygenation of the wine, which enhances its color and stability. It also helps to mellow out particularly harsh flavors. ;
Second, and perhaps most importantly, the wood itself is composed of a range of chemical compounds that impart a specific character flavor, aroma, and texture profile to the wine. ;
The character imparted by a wine barrel is dependent on a number of different factors ranging from the type of oak to the seasoning of the oak staves used to construct the barrel. Thats not forgetting the degree of toasting or heating that the oak was exposed to during construction. ;
As a winemaker, consider the options available and determine what barrel will produce a flavor, aroma and texture profile that best suits your wine.
Recommended Reading: How To Make Glasses Out Of Wine Bottles
Most Asked Barrel Questions
The hoops are loose or have fallen off… What do I do?Our barrels are handmade without the use of any nails. As the wood dries the barrel shrinks and hoops loosen. Hooping is fitted in location but is only stabilized after the curing process when the barrel swells into place due to the expansion of the wood. Simply hand force the hoop into its proper location and slightly tap the bandings side with a blunt item around the entire circumference of the barrel until tight. Then proceed to the curing process.
When I opened the box and pulled out the barrel, I hear something inside the barrel rattling…?It is common for the barrel to have small pieces of wood inside. Your barrel is charred internally and can cause pieces from the inside to separate from the body.;THIS IS GOOD NEWS! The more charred surface contact with the spirit, the faster it will age. Simply strain the spirit before drinking.
How do I insert my spigot?Please be conscious that your spigot is the most delicate part of your new barrel. You will have to hand force the spigot into the hole as far as it will go. Turn the movable top piece to the side then tap in using a rubber mallet or hammer with a towel or shock absorbent material to prevent it from being cracked.On a side note please remember that once your spigot is in place to make sure it is at the proper angle, as once it is cured the spigot will swell as well and be permanently in that position
DO NOT SUBMERGE YOUR BARREL IN WATER!!!
Where Can You Buy Wine Barrels For Outdoor Planters
We also just happened to be passing through Santa Maria, California, on our way back from our latest road trip . Being close to local vineyards means that Wine barrel wholesalers, like Quality Wine Barrels, have a booming business. While you cant request a barrel from a particular vineyard, you can choose darker or lighter shades, the style you want , and the size . And buying them directly meant that we saved a lot of money.
Read Also: How Does First Leaf Wine Club Work
Where Can One Buy Whiskey/wine Barrels
Would love to find one to refurbish and use in my basement to hold some of my bottles.
Find a distillery/winery, there are even some craft distilleries, and either ask to purchase a used barrel or ask where they buy their barrels from.
Yeah take a drive down to 40 Creek and see what they say
You could check out Wine Kitz by Canadian Tire… That or Vin Bon also on Fairview, my brother was able to buy a couple of crisas there so they might have barrels.
Thanks! As for crabby tire I was looking for full sized barrels
$219 Canadian would be great, except that's a wrapper canvas picture.
You're not going to find a used liquor barrel in Ontario because they don't want people using them to make swish. You might be able to find a wooden food use barrel but those are rare because everyone is using plastic now. Best bet is to buy a new barrel and have fun distressing its finish.
How Much Do Wine Barrels Cost
Top 15 ideas for your whiskey and wine barrels! – Mystic Barrels
How much do Wine barrel planters cost? We bought half barrels from the Quality Wine Barrels yard for about $25. If you buy them from reputable garden supply places that feature large outdoor garden planters, like Lowes, youll probably pay around $40. Specialty stores will sell them for as much as $420. Im sure those are great barrels, but for $420, that Wine barrel better arrive here filled with Wine. We simply did not want to stretch our budget that much.
Don't Miss: Where Can I Buy Black Box Wine
Innovating The Way We Roll
The Rocky Mountain Barrel Company team is excited about barrels. Seriously, our team loves supporting our customers across the country and world.
When working with traditional spirit and wine barrels, we put service before anything else. As a small business, we do our best to meet your needs with honesty and transparency but also excitement. With years of experience in the barrel industry, our team always loves educating our partners. We also love pushing the envelope on what is possible. Some of our recent barrel finds include barrels once used to age hot sauce, soy sauce, tea, and even maple syrup
The Rocky Mountain Barrel Company is proud to partner with 1400+ breweries across not only the United States, but also internationally. With all our partners, our team is proud of providing breweries great new and used barrels, casks, and other brewing items from around the world. No matter the partner, our team prides themselves on their customer service, our barrels, and our capabilities to build personal relationships with every customer.
Five Steps For Preparing A Half Wine Barrel Planter
1. Drill drainage holes in the bottom. Even when I lived alone, I thought it was important to own a power drill. Ive done this plenty of times myself, but a girl can get lazy about certain things when she has a guy around. Now I usually ask Stewart to drill the holes.
2. Spray the bottom and inside of the barrel with apple cider vinegar. If your wine barrel is the real thing solid oak that was used to ferment grapes it may play host to a fungus that will grow on the wood. If you put the barrel on a wooden deck, the fungus may begin to grow there, too. To inhibit the growth of stuff you dont want, get some apple cider vinegar and a plastic spray bottle and go to work. Turn the barrel over and thoroughly spray the bottom, concentrating on the area around the holes. Then turn it over and thoroughly spray the inside of the barrel, too. Let the barrel dry and proceed to step 3.
3. Cut pieces of wire mesh to fit over the drainage holes. You can use any kind of strong mesh for this step, as long as the openings are small enough to prevent the soil from dropping through the drainage holes. If you have mesh made of strong fabric, you may be able to cut out a big circle with scissors and staple the whole thing to the bottom of the barrel. I use the heavy wire shown in the photos only because we have a bunch left over from an old drainage project.
You May Like: How To Remove Old Red Wine Stains
Barrel Aged In A Bottle
For centuries the worlds most celebrated distillers have known charred oak barrels are essential for aging the best spirits. Now, the ability to achieve similar results directly in the bottle – adding color, complexity, smoothness and subtle overtones is made possible with Oak Infusion Spirals from The Barrel Mill. You can quickly and easily make a top-shelf impact on any bottle.
Genuine Aging Oak Barrels
Our barrels are made from american white oak and made to seal naturally by allowing the oak wood staves to swell until they tighten sealing all gaps. No bladders, plastic lining, glues, tin foil or wax are added to the inside of the barrel to make them seal, these are genuine oak aging barrels!
In our online store you will find quality whiskey barrels for sale as well as barrels for aging tequila, bourbon, rum,scotch, spirits, wine, brandy and any type of booze you can think of!
Recommended Reading: How To Make A Pallet Wine Rack
Here Is What Customers Have To Say About Us
DENISEI searched for barrels for my daughters wedding all over the place! The shipping, most of the time, was more than the barrel itself. This company was quick to answer my emails and the shipping was FAST, friendly and affordable! The barrels are fantastic we love them! Great local company!! GREAT CUSTOMER SERVICE GUYS, THANK YOU SO MUCH!
LAURAAwesome customer service and great barrels. Mike was very very quick to respond to my email and a pleasure to work with.Do not waste your time researching another company – this one is top notch Thank you mike !
BRITTANYOh my gosh…your barrels were sitting on my front porch when I got home this evening. You truly made my day! Thank you again for everything…you have been amazing to work with and this is the best $400 I have spend in years! I am so happy!!
this popup is for products having tag "women".
General Barrel / Product Questions
What are the barrels made from?Our barrels are made from premium quality American White Oak. The staves are air dried for two years and all barrels have a medium char.
Are glues or nails used to make the barrel?No, our barrels are all hand crafted with no use of glues or nails.
How should the barrel be stored?Barrels are best stored in a cool damp environment such as a wine cellar. This will keep the exterior from drying out and minimize evaporation. ;
How many times can I use my barrel?With proper care, you can use your barrel for 8 to 10 years. Following the cleaning and re-charing instructions will insure a long life for your product and be sure to not let your barrel dry out.
I left my barrel dry for an extended time. Now it leaks… what do I do?In many cases just re-cure the barrel. If it continues leaking, submerge the barrel in water for a couple of days. After it's been submerged, dry the exterior with a towel and fill it with water to see if it continues to leak. If so, find the leak and apply barrel wax to the hole… If you can't stop the leaking… cut in half and use as a planter!
What are the barrel dimensions?
Also Check: How To Get Wine Delivered Same Day
American Oak Vinegar Barrels
American toasted oak barrels give your wine vinegars a depth, weight and complexity that glass and ceramic can't. For the most delicious and robust wine vinegars, theres nothing like making your very own. Once you have you'll never go back to store bought again. It's quick. It's easy. Complete your kitchen with your own vinegar barrel.
Become A Barrel Expert
Oaked Wines and What You Need to Know About Them – Wine Simplified
Investing in quality used oak barrels for your brewery is only the beginning of you barrel-aging journey. What happens when there is a problem with a barrel? Can you maintain and repair the barrels you have? Do you know how to spot problems before they start costing you product? Barrels Direct is here to help.
Barrels Direct is part of the River Drive Cooperage & Millwork family as a result, were not only experts at barrel brokerage and logistics, but also at maintaining, repairing, and building custom barrels. Were now offering a new series of educational cooperage classes to share our knowledge and teach your team to keep your barrels at their best.
Also Check: Which Aldi Stores Sell Wine
The Stainless Steel Alternative
Stainless steel wine drums have recently grown in popularity as an alternative for storing and aging wine. Stainless steel is a neutral metal, which doesnt impart any particular characteristics to the wine. That makes it an excellent choice for white wines or for any wine where the goal is to preserve the original flavor and aroma profile. ;
Stainless steel drums are also much cheaper than oak barrels in the long-run. ;Oak barrels must be replaced or repurposed after a few years of use, whereas stainless steel drums can be used for decades before they begin to break down.
Beyond production, cleaning a stainless steel drum is easier than an oak wine barrel, which tends to scratch and soak up old wine into the grooves.
Though stainless steel drums are best known for their neutral character, using one doesnt mean you have to give up on infusing your wines with oak! Thats easily solved by adding oak chips, staves or spirals to the stainless steel drum. ;Some winemakers find this process gives them more precise control over the eventual flavor and aroma profile of the wine then with wood barrels.
Whether youre looking for a drum that can age a brighter, crisper wine or looking for a cheap alternative to oak that can be reused for many decades, a stainless steel drum is worthy of consideration.