The Purple Rain Wine Controversy Explained
Best Way to Buy Purple Rain Deluxe
An Ohio winery's best-selling product may soon become "the wine formerly known as Purple Rain." L'uva Bella winery in Lowellville, Ohio, has come under fire from Prince's estate for a trademark that the estate claims infringes on the late rock star's "most famous song, album, tour, movie, etc."
According to Food & Wine, L'uva Bella was issued a trademark in 2019 for the brand name "Purple Rain," which it uses for its sweet Concord grape red wine, although it began selling the brand in 2016.
Prince's estate began legal proceedings against the winery in the summer of 2021, hoping to have the trademark revoked. They argue that the fame of the phrase "purple rain" is directly linked to the musician and that the wine's name results in a "likelihood of confusions" and a "false suggestion of a connection" to the artist, who died in 2016 without leaving a will .
Lawyers for Prince's estate, which is overseen by Comerica Bank, told Rolling Stone that they "have a fiduciary duty to protect the estate's intellectual property" including Prince's trademark on "Purple Rain," which was obtained in 1984 with the release of the film, soundtrack album, and title song of the same name. The album went on to receive Oscar, Grammy, and Brit awards for its soundtrack and went platinum 13 times, according to CNN Business.
L'uva Bella Disputes The Claim
While Prince's estate argues that the winery is unfairly profiting off the renowned musician's most successful work, L'uva Bella has claimed in a recent court filing that there can be no confusion over the brand's affiliation for an unusual reason: Prince did not drink alcohol.
"Prince was a teetotaler who despised alcohol," the winery wrote in its court filing, per Food & Wine. "The fans of Prince, knowledgeable about his beliefs and views, would never associate an alcohol containing product with the artist."
NME reports the winery also noted in the filing that "Prince never lent his name to any product or enterprise during his lifetime, and never endorsed or promoted any products, let alone any products bearing the name 'Purple Rain.'"
Despite this argument, and its reliance on wine buyers' presumed knowledge of a deceased rocker's business and drinking practices, the brand itself appears to contradict the claim in its own promotional materials. L'uva Bella's website marketing the Purple Rain brand wine describes the beverage as a "little red wine," something which could be seen as a sly reference to Prince's 1982 hit "Little Red Corvette."
Lawyers for Prince's estate requested in January that the U.S. Trademark Trial and Appeal Board retract the trademark without a trial. A decision is expected in the coming months. Meanwhile, L'uva Bella has defiantly announced it plans to continue sales of the brand and even extend the line to include sangria and rosé varieties.
What Are The Top Wineries In North Carolina
There are several, including Deerfield Ranch, South Creek and .
The wineries of North Carolina have several challenges they face but have still managed to establish a solid reputation and produce highly-rated wines.
Some of these wines are made from a native variety, known as Muscadine, that thrives in the heart of North Carolina. There are several wineries that grow Muscadine, which is a variety known for its ability to combat the regions heat.
The heat also allows for powerful red wines to grow here, including some more classic Bordeaux-varieties, which is especially focused on by South Creek Winery.
Some other significant wineries include:
Don't Miss: How Many Ounces In Bottle Of Wine
What Is The Alternative To Blue Curacao And Grenadine To Make A Purple Cocktail
The tea from the butterfly pea flower is a good alternative for purple cocktails as it reacts with the acid in the alcohol, creating a beautiful purple color.
The Victorias Empress 1908 Gin is also a good alternative for purple cocktails. It is made from a mix of ginger, blood orange, cinnamon, butterfly pea flower, and other botanicals. It also makes an excellent gin tonic.
Another great alternative is the purple edible glitter for a shimmery purple cocktail. You can also use regular grape juice or sparkling red grape juice.
How Many Wineries Are In North Carolina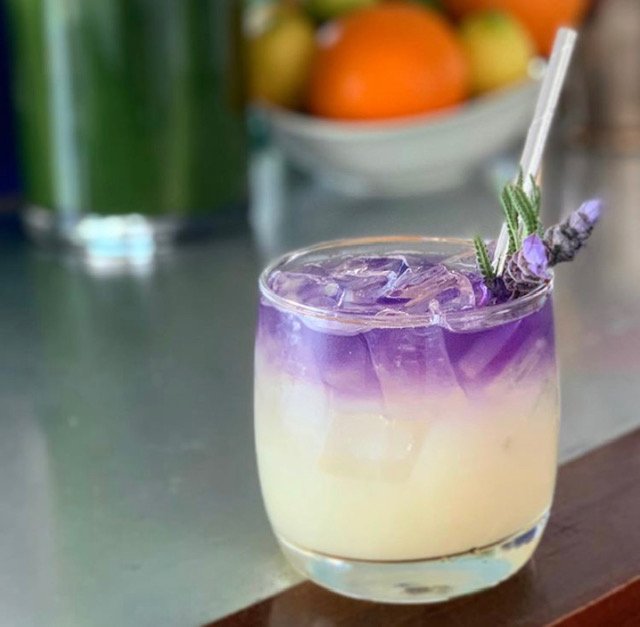 Almost 200 wineries.
Unlike many other wine-growing regions in the USA, North Carolina isnt well-suited for growing grapes. The challenging growing conditions of North Carolina could not prevent hundreds of wine-producers from setting-up wineries and facing up to the conditions. Throughout the years, almost 200 of these wineries have been established, with the numbers increasing every year.
There are several challenges that these wineries face. A large factor is the humidity of the region, that creates the ideal environment for disease to thrive. Along with that, the extreme heat can also cause the vines to shut-down and cease to produce grapes. Many wine-producers in North Carolina have found ways to combat this by growing disease-resistant varieties that are more resistant than the more classic varieties.
Read Also: Marsala Wine In Grocery Store
Prince Estate Aims To Shut Down Purple Rain Wine Brand
A vineyard marketing wines under the name Purple Rain responded to a lawsuit launched by Prince's estate with an unusual defense.
The matter went legal after Ohio's L'uva Bella Winery was awarded the trademark to the title in 2019. The musician's estate which is locked in multiple court procedures as a result of his death without a will claimed "likelihood of confusion" and "false suggestion of a connection" meant the trademark should be canceled.
"The estate protects the intellectual property Prince created during his lifetime, including his image and the trademark 'Purple Rain,' which is strongly associated with him," last year's estate filing read . "'Purple Rain' is Prince's most famous song, album, tour, movie, etc., and there can be no doubt that 'Purple Rain' signifies Prince."
While the estate led by Comerica Bank, which was appointed to oversee the legal proceedings involving Prince's assets had asked for the trademark's termination without trial, lawyers for L'uva recently responded with a new argument against it: There can be no confusion because Prince didn't drink alcohol.
The lawsuit is yet another demonstration of what can go wrong when an artist dies without a will. For now, the Purple Rain wine range remains on sale at $7.99 a bottle, with variants including Tri-Blend, Sangria and the award-winning Concord.
Purple Rain Drink And All Drinks Purple Advanced Mixology
The Purple Rain drink is a variation of the Long Island Iced Tea and another cocktail with almost the same ingredients. The blue curacao and the grenadine give this cocktail its distinct purple color. When drizzled after mixing with the blue curacao, the grenadines gradual sinking into the cocktail evokes the imagery of heavy rain.Here is a thorough guide on how to make the iconic purple rain drink and its other variants.& nbsp
Provided by Advanced Mixology
Stir or shake gently and serve.
PURPLE RAIN RECIPE – LOS ANGELES TIMES
From
PURPLE RAIN DRINK RECIPES
From
PURPLE RAIN COCKTAIL | DISHES DELISH
From
THE PURPLE RAIN DRINK RECIPE | HOMEMADE FOOD JUNKIE
From
PURPLE REIGN – BAR BUSINESS
From
PURPLE RAIN® – L'UVA BELLA
From
3 PURPLE RAIN DRINK RECIPE | DECEMBER 2021 | RECIPE SELF
From
PURPLE RAIN COCKTAIL | DISHES DELISH
From
PURPLE RAIN RECIPE – DRINKSMIXER.COM
From
PURPLE RAIN COCKTAIL – FOOD & WINE CHICKIE INSIDER
From
10 BEST PURPLE DRINKS ALCOHOL RECIPES | YUMMLY
From
PURPLE RAIN COCKTAIL – FOOD & WINE CHICKIE INSIDER …
From
THE SWAN MIXOLOGIST WILLY ESTRADA MIXED PHARRELLS …
From
36 BEST PURPLE SIGNATURE DRINKS IDEAS | SIGNATURE DRINKS …
From
HPNOTIQ
From
PARTY IN A GLASS: TOP PURPLE COCKTAILS YOU NEED TO TRY IN 2018
From
PURPLE RAIN: CHASING JOHANNESBURGS JACARANDAS ON AN E …
From
PURPLE COLORED DRINKS – ALL COCKTAIL AND DRINK RECIPES
From
Don't Miss: How Many Carbs In A Glass Of Red Wine
Purple Reign Purple Pain
Home » Purple Reign, Purple Pain
Perth-based wine company Masstengo famous for its Purple Reign wine is being sued by the estate of dead rock star Prince and Coca Cola.
Prince, who died in 2016, was famous for the hit song, Purple Rain.
The worlds first naturally purple wine, Purple Reign was released to the domestic market in 2019.
It quickly met demands exceeding 300,000 bottles in Japan, Hong Kong, USA, Taiwan, Malaysia and Singapore.
Mid 2020, at the height of Covid, Purple Reign went viral on social media in Hong Kong and Taiwan, Purple Reign co-director Tim Macnamara says.
Consumption went crazy with inquiries from overseas, we did a special collab with a professional sports club in Japan and in Australia the shelves were being stripped by Daigou buyers we were struggling to meet demand from Asia and couldnt believe our great luck as a boutique Aussie producer.
Masstengo anticipated readying their intellectual property for the USA, Europe and UK.
It is at that point they landed on the radar of Coco Cola and the estate of artist Prince, finding themselves engaged in legal proceedings with the two giants.
The estate of Prince claimed that our wine would become too successful and would dilute the artistic value of the song and movie Purple Rain, Macnamara says.
Masstengo says it does not have the deep pockets of its opponents.
It is also linked to a reduced hangover, which is obviously a popular angle with drinkers.