How To Start A Wine Label
How to Make Your Own Wine Bottle Labels – easy DIY wine labels!!
A s a custom crush winemaking facility, a common question we get asked is, how do I start a wine label? Because this is so common, we wanted to provide a brief overview of some of the factors involved in this process.
If youve ever considered starting your own wine label, its likely that you dont know where to begin. Many first-time business owners might assume that you have to own your own winery to start a wine company, but that is not the case for many new labels. There are many components to consider when thinking about making your own wine, and we are here to help. If you are thinking of potentially starting your own wine label without the burden or expense of owning your own winery, here are some pertinent details to keep in mind.
The Private Label Wine Business Is Picking Up Momentum As Retailers & Restaurants Look For Ways To Boost Their Income And Create A Unique Brand
The private label wine business is picking up momentum as retailers and restaurants look for ways to boost revenue, increase margins and create a unique brand identity. On the surface, it almost sounds like an oxymoron – having your own wine label without having a winery. But private label wines are becoming an increasingly popular segment of the U.S. wine market, and for good reason: launching your own private label wine can boost revenue, increase profit margins, and help you create a unique brand identity that sets you apart from the competition. Perhaps the best example of a private label wine business taking off is the Kirkland Signature line of wines at Costco, which is already the #1 wine retailer in the U.S. Through its exclusive partnerships with wineries in the United States, Costco is able to offer unique, premium wines at half the cost anywhere else.
For example, the legendary Italian restaurant Carmines in New York City has used private label wines as part of its overall branding strategy. It has worked with wineries to create a range of different wines – Pinot Grigio, Chianti, Prosecco, Montepulciano, and Trebbiano – that it can offer to customers as examples of small, family-made wines, which can be enjoyed as part of a family-style feast. For families and tourists on a budget, its a way to create a welcoming wine menu that is also true to the restaurants overall brand.
Reusable Wine Bottle Labels
All our labels are printed on a commercial digital print press. Our vinyl labels are repositionable which means they can peel off and restick, so they always end up straight. Repositionable vinyl means your tags look as good coming out of the ice bucket / water as they do going in.; To top it off youll get them fast! All our labels and coasters print and ship within 3 business days from your placed order.
Read Also: Madeira Wine Kroger
Keeping Track Of Your Homemade Wines Without Wine Bottle Labels
I would like to track my wine bottles without using wine bottle labels which can be difficult to remove for my next batch of wine. Is there an easy way to mark my bottles that can be removed the next time I use them?
Name: Curtis B.Hello Curtis,
There are several ways you could go about tacking your homemade wines without using wine bottle labels. Most home winemakers will use a color code. Each batch of wine will be assigned a color. Then that color is used on the wine bottle.
The simplest way to get the color on the wine bottle is to use different colored heat-shrink neck capsules. We have nine different colors, which is enough for most home winemakers. These neck capsules are a PVC plastic that will shrink to the neck of the wine bottle when heated. They also help seal the bottle more tightly.
We also have assorted colors of sealing wax. You can do the same with them. Just heat the wax up in an old tin can. Then dip the neck of the wine bottle into the molten wax. Instead of dipping the wine bottles, you can inset the wine cork about an 1/8 into the neck of the bottle and pour the colored wax in the inset to form a colored disk over the cork.
In either case, keeping track of your homemade wines is just a matter of keeping your colors straight. You can do this with a color chart or legend that keeps track of what batch of wine each color represents. You can put it on the wall near your wine rack and problem solved.
Happy Winemaking,
Using Gummed Or Adhesive Labels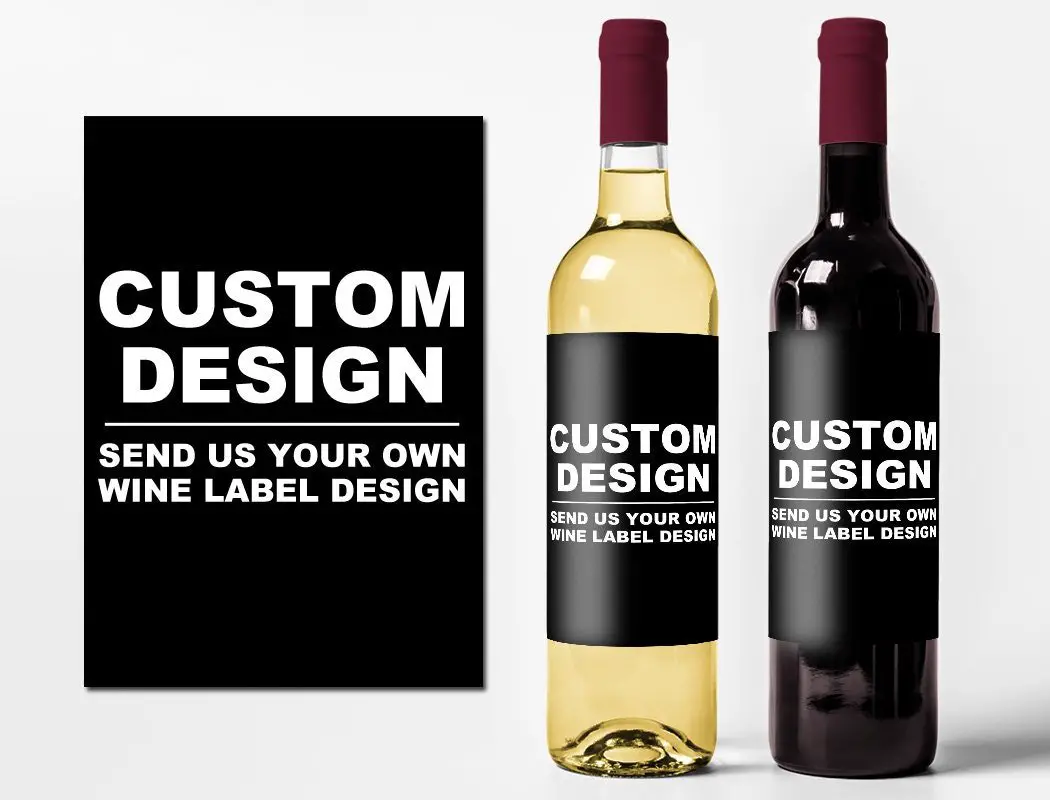 Another option is to purchase pre-gummed labels or adhesive labels. Ones that are manufactured specifically for wine label use will stay adhered to your bottles while others made for general use may come off or slip when they become moist or wet. Often these packages of labels will provide directions on how to use your word processing program to print them out correctly. It may be helpful to print out a copy of your wine labels on plain paper first to ensure correct alignment of the label sheet.
Consider the conditions under which your wine bottles will be stored. If the bottles will be in a cool, dry environment the labels will probably stay on without any problems. Bottles stored in a cellar or in areas where they may become damp will need labels with strong sticking power.
Also Check: What Kind Of Wine Is Safe During Pregnancy
Customized Gifts For Any Occasion
Vibrant Crisp Color
The inks we use to print our stickers are rich, commercial-grade inks that when combined with our high-end press give you spectacular results.
Top Quality Materials
Our label and sticker material is made with a special chemical formula. All of our stickers and labels are 100% waterproof and will hold up when submerged in ice and water.;
Quality Adhesive
The adhesive we use on our products is permanent on many surfaces, outdoors and indoors. They're called STICKers for good reason!
Awesome Customer Service
If you're not happy, we're not happy. We tackle any concerns you have as soon as you notify us and do our best to make you satisfied.
Custom Wine Bottle Labels Are Included At No Charge
At Your Own Winery, well help you create a custom wine bottle label using a favorite photograph or image. And best of all, there is no extra charge for these custom wine bottle labels. Our custom labels are a huge hit with all our wine-makers, adding your custom bottle label to a wine you made yourself creating your own personal wine vintage. Your family and friends will be very impressed, especially when they taste how good the wine actually is.
Just a couple of Custom Labels from actual customers. The watermelon label was for one of our all time summer wine favorites Watermelon Rosé. Do you know what movie Suit Up Melon was from? The possibilities are endless.
Our Classic Designs label collection
We also have large collection of predesigned labels for you to choose from our Classic Designs label collection which you can personalize by adding whatever text youd like.
Don't Miss: What Wine Has The Lowest Calories
Professional Wine Label Designs For Wedding Wine Labels Or Gifts
Use one of our templates to quickly create a great design perfect for special occasions such as weddings, creating unique, personal gifts, or just impressing guests. Our growing selection of designs are flexible with loads of great color options and styles.; Use our professionally designed templates to quickly create custom wine labels. Templates allow you to upload photos, edit text and swap colors. Using our templates is a quick way to ensure a quality looking custom wine bottle label. As always, designing any of our products such as customized wine labels is free, so enjoy! Join our newsletter and get the inside scoop on upcoming deals and sales and read our blog for more tips to maximize your creativity.
Now How Do I Attach My Personalised Label Onto A Damp Glass Bottle
Make Your Own Wine Labels
This is the stage that DIY enthusiasts dread the most! At La Sommelière, we like people and sharing our passions with themalong with our best tips!
Dear friends, and DIY experts, wine and champagne connoisseurs, we will now reveal how to stick regular paper onto a glass bottle, using an extremely simple and inexpensive method!
All you need is a single ingredient: MILK!!!
Yes, you read it right! Milk is the magic liquid that will act as an adhesive on your bottles of wine. Unbelievable, don't you think? Now, let's get down to practical matters:
First of all, make sure that the bottle of wine is clean and dry.
Then apply a thin layer of milk on the back of your label . Remember, there is no need to soak your creation! For added convenience, use a pastry brush, also known as a basting brush.
Then apply the label onto the bottle at the desired spot and hold it firmly for a few moments.
After a few seconds, you will feel that it has adhered perfectly to the glass bottle… and breathe! Extremely easy, isn't it? Now just repeat the process for as many bottles as you need.
If you have any other tips, we would love you to share them with us in the comments. We would be delighted to read them and try them out. Also, do not hesitate to post photos of your bottles decorated with La Sommelière personalised labels on .
Read Also: How To Make A Pallet Wine Rack
Get Mesmerizing Custom Wine Labels For Any Occasion
Are you looking for that perfect moment when you give a wine bottle to your loved one? We specialize in providing you with high quality custom wine labels that will exceed your expectations. Our marvellous designs make your wine truly unique, whether you want them them as a wedding gift or birthday presents. At any given day, we have no doubt that our labels can transform your wine bottle into an elegant souvenir. Nothing will give your more soothing pleasure when you serve your favourite wine to your guests at dinner parties, along with personalized wine labels. As far as technology is concerned, we use advanced printing and cutting process that allows us to create wine stickers in any shape and size. By the way, the size of our templates varies according to the shape and volume of the wine bottles. Most of the bottles will feature the standard Bordeaux style design.
Perfect For Homemade Or Small Batch Wine
Winemakers, do you have a label design in your mind for your personalized wine bottle? Create it on Bottle Your Brand. Save the money you would spend on artwork fees and go straight to making your wine label using the on-screen label designer. Many of our customers are small batch wineries who use their own vineyard logo or photos of their grapes and vineyard to make a label for their family-owned estate wine.
You May Like: How To Cut Wine Corks For Place Card Holders
Create Your Own Custom Wine Labels
You can customize our pre-designed templates with your own texts and photos. At iCustomlabel, we have unlimited options to fulfil your needs. With hundreds of distinctive designs to choose from, no one can stop you from finding the perfect one for your specific occasion. We will help you bring out your creative and artistic skills, while your recipient will never forget your customized gift. To create a bespoke wine label or sticker, you dont need any coding or designing skills. Its really simple to get started, even simpler to finish the process. All you need is be at your imaginative best, rest is cakewalk.
If you follow our steps, you make your own custom labels or stickers within minutes. Pick a layout of a particular size and shape according to your need. Choose a theme that will give your label a beauty boost. Now personalize your label with eye-catching images, you can find so many of them. Describe your label with an engaging text, or you can put your personal message for your recipient. Our easy to use label editor makes it a breeze to add personalized text and images to your label design. Finally, download and print your label.
Print Your Wine Label In Stunning High Resolution
Getting your design off the screen and onto your bottle is as easy as clicking the Download button. Save your design as a high-quality PDF to print at home or at a professional printer. And youre all done! All thats left will be to celebrate and raise a glass to your newly labeled wine cheers!
Don't Miss: Thomson & Scott Noughty Alcohol Free Organic Sparkling Wine Usa
Customized Wine Bottle Labels With Your Photo Or Artwork
Full color custom wine labels are easy to make and perfect for all wine makers and wine lovers! Make your own personalized wine bottle labels with Bottle Your Brand's Design Online tool. See the design before you buy! Scroll down to view the variety of background designs available and then select a wine label design to personalize. After you select your label you will be prompted to choose your quantity. Then the fun begins when you personalize the design. Add a company logo, a favorite photo, type in your text and choose your favorite colors for a completely customized look. Create and save your wine label design for free. If nothing here is quite right, choose Make Your Own from the header above and design your wine labels from scratch. Order multiple designs for gifts or special occasions. Start now and enjoy the fun of seeing your personal wine label appear on your screen.
You are browsing through Bottle Your Brand's personalized wine label section where you can find many wine label designs. Choose from our large selection of pre-made wine labels and add your own words using our state of the art design tool, or upload your original design. All wine label templates are ready to be customized with text, photos and artwork.
How Are Labels From Icustomlabel Different From Others
Our customers admire the superior quality that is present in all of our personalized labels. We have hundreds of options to choose from, so you will never be limited in regards to choice. Therefore, whether you need;custom champagne labels for anniversaries;or personalized labels for exotic wine bottles, we can come up with any kind of design imaginable. Before you ready your wine glasses on the table, just take a look at our label on the wine bottle. It is high quality, water resistant, and wonderful looking print that you might not have seen before. Our personalized wine bottle tags are what you need them to be at those very moments. Whether it is your romantic date or a rare family dinner or an official luncheon for that matter, our label collections are more than perfect for any occasion. The variety of color combinations decorated with perfection and style is our hallmark. If you have selected our wine labels, we guarantee that you will select them many times over.
Recommended Reading: Where To Buy Wine Grapes
Making Your Diy Wine Labels
Determine the size of your label. I didnt want to deal with the hassle of;soaking my 750 mL wine bottle and then peeling away layers of adhesive, so I picked a 4×6 label size . It was larger than my existing label and worked in either portrait or landscape orientation. The body of my rosé bottles was pear-shaped, so I went with a 2 ½ x 3 ¾ size labels . You can't even tell there's a label behind the new one.
Purchase your;Avery;label.
Create your design in the program of your choosing. Save it as a JPG or PNG for best results.
Create a basic Avery account or login to your existing one.
Search for the specific template to match the label design you purchased, then upload your image.
Print from your computer, remembering to load your label paper and change the custom settings on your printer screen.
Carefully;apply the label to your bottle. The 4×6 labels have a tendency to ripple, so I recommend going verrrrry slowly and carefully. They also have a tendency to go on crooked, so hold the label slightly away from your body to get more of a universal look at how it's lying on the bottle.
To really tip the scales in your favor, add a personal note about what it would mean to have your friend as your bridesmaid.
The label featured above is the circular 2-inch diameter Avery Template 4227. The wines featured in this setup were produced by Bella Bollé Wine, courtesy of Walmart – because I'm classy like that.
Why Create An Original Wine Bottle Label
How to Make Wine Labels
This is a great question! Our one-of-a-kind wine templates and free wine labels are perfect for a variety of occasions. Make wine labels for birthday parties. Or how about you make wine labels as wedding favors–this is where roll labels really do come into play. You could also make free wine labels featuring special family images or photos. That is the great thing about custom labels, they can reflect anything. The people who receive your wine whether for a holiday or some other special event, will truly see that you put time and effort into your wine labels!
Read Also: What Wine Has The Lowest Calories
Let Adobe Spark Be Your Wine Label Design Expert
Hone your creativity with the power of Adobe Spark Post. Explore professionally designed templates to get your wheels spinning or create your wine label from scratch. Establish a theme for your designs using photos, icons, logos, personalized fonts, and other customizable elements to make them feel entirely authentic. Duplicate designs and re-size them to create consistency across multiple types of assets. With Adobe Spark Post, its free and easy to make, save, and share your designs within minutes.